Ordering
How do I pay for my stuff?
At Robber Barons Ink we strive to make parting you from your money as simple and painless as possible. Big Cartel currently only support Paypal as a payment source, but they offer a few options. Paypal will allow payments to be made via credit card, some debit cards, paypal funds or in some cases directly from a checking account. If you have any specific questions, or would like to arrange a local pickup, please get in touch.

Can I change my order after it has been submitted?
If you made a mistake or would like to make a change to your order you may do so within 24 hours of submitting your order. Once the order has been processed and fulfilled changes may not be made unless you have a time machine we can borrow. If so, seriously get in touch, we have a really great idea.

How are your shirts printed?
All shirts are hand screened using high quality, advanced polymer technology water-based inks. The result is a more environmentally friendly, vibrant ink covering that will make your friends jealous, versus boring traditional solvent based inks. No cheapo heat transfers or iron-ons ever, not even if you asked nicely.

What type of shirts do you print on?
All solid colored shirts are printed on 100% cotton standard-fit tees unless otherwise noted. Heathered colors are 50/50 cotton/polyester. None of those confusing slim/tight fitting shirts that will only fit your small vegan friends.

Do you have a tshirt size chart?
But of course! Don't forget they are 100% cotton shirts so they may shrink slightly if you're a bit reckless with your washing or drying habits. Please keep in mind that we are not currently offering every size available on the chart but hope to after we get a feel for supply and demand.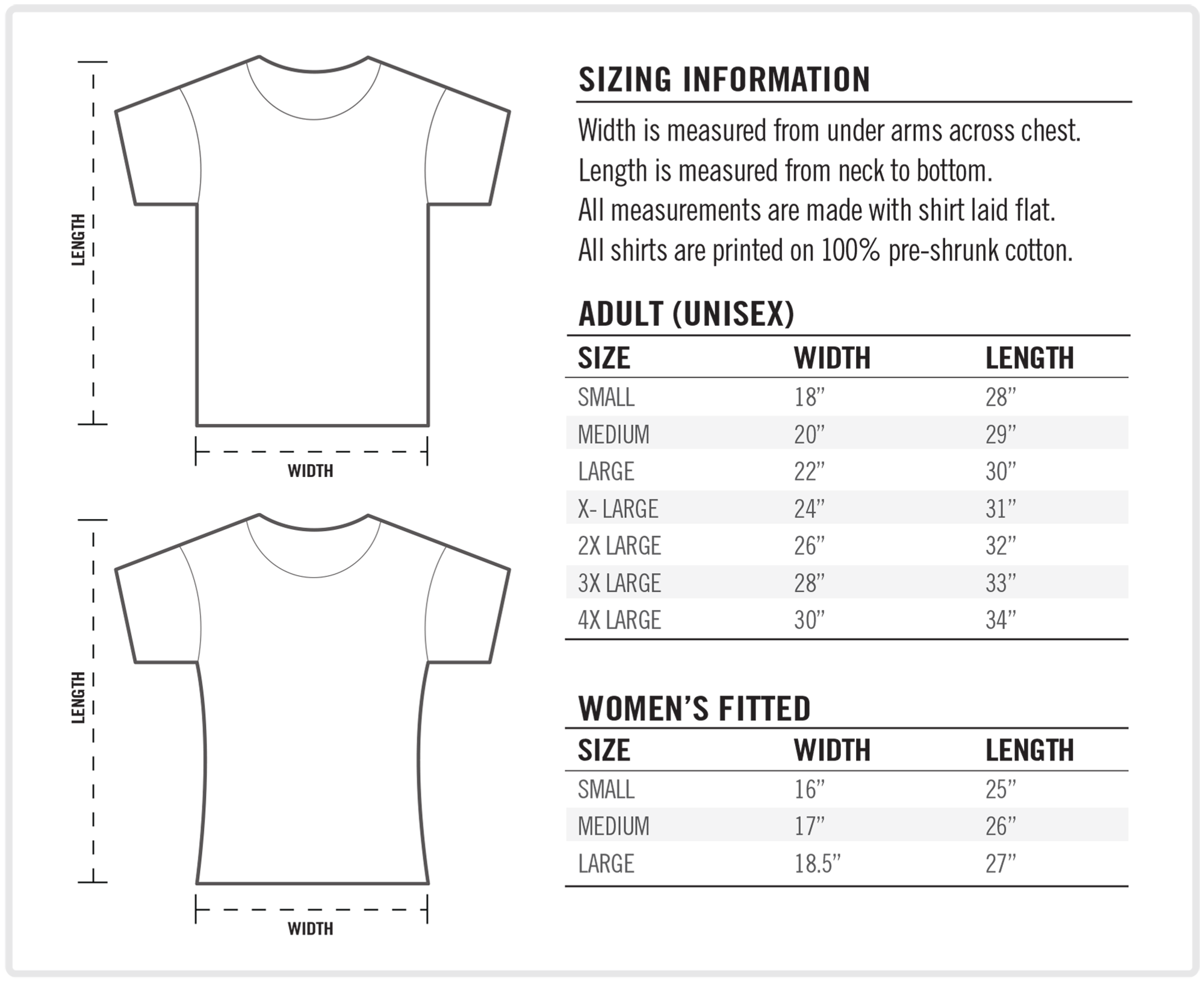 Shipping
How much is shipping?
Shipping on t-shirts is $5 flat, all you can ship in the domestic US, so stock up! Bandanas are $3. Shipping to Canada starts at $10. Buyer is responsible for any customs/duty fees associated with their order.

Do you ship internationally?
We currently only ship within the United States and Canada. We hope to support all international orders in the near future. There *may* be special exceptions to this rule but definitely contact us first to arrange something out of the ordinary.

How long until I get my stuff?
Most orders ship in 3-5 business days, however, please allow a couple weeks for delivery in the event that we are restocking an item, if you live in the middle of the woods or around holidays. Canadian shipping can take between 1-3 weeks, depending on customs and location. If you have a shipping concern feel free to contact us with your shipping concerns.

What if I have an issue with my order?
If your order was filled incorrectly or an item is defective in some way, please contact us within 30 days of purchase to arrange an exchange or replacement. All returns must be unwashed/unworn. Also, please do not return items without contacting us first or there is a good chance that Chef Bongo Bliss will probably think they are gifts from his groupies.

I didn't receive my shirts, wtf should I do?
Don't panic! Use the contact form to resolve any order or shipping issues. Be sure to include any important details such as your name, order number, etc.
Other Questions?
Do you do custom stuff?
Sure! We print all kinds of stuff. Looking for a shirt design or want your idea printed? Get in touch!
I have a great idea, do you accept shirt design submissions?
Absolutely! If you have a design you'd like to submit, please contact us.

Do you sell shirts wholesale?
Our focus is quality versus quantity. While we don't do commercial wholesale, we are always open to working with other artists and small businesses who share our indie spirit.
How can I get in touch to ask you about an idea, issue, rash or something else not mentioned above?
Did we mention that we have a contact form that you can use? If not, try using our contact form.
Who is Robert Baron?
Robert Baron is a man, both mysterious and middling. He can walk through a crowd and be his own entourage. He can hide in plain sight and not even be there.